S2E3 - Grosse Ile's Zeppelin, the ZMC-2
with Barry Levine
2 years ago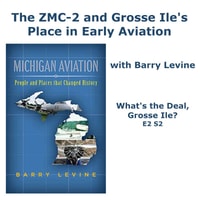 Episode Notes
Ben talks with author Barry Levine about aviation history that is unique to Grosse Ile. Don't let his song references go over like a lead balloon.
Links
Yankee Air Museum (Book)
Barry's Talk is October 3rd at 2pm at the Azalea House at Westcroft Gardens (21803 West River Road). Look to the Historical Society for details.
Contact What's the Deal, Grosse Ile?
WhatsTheDealGI@gmail.com
(734) 250-9554
Music: Marc Torch / The Last Cosmonaut / Courtesy of www.epidemicsound.com https://www.epidemicsound.com/track/aFzNYuujKF/